In this article we discuss the disadvantages of video calling and how you can better manage this technology for improved health and wellbeing.
I am sure you will agree that work-related video meetings (via technologies such as Zoom, Microsoft Teams or Google Meet), have now become staples in our lives. So much so, that "to Zoom" has become a verb in our new digital existence catalysed by the COVID-19 pandemic.
On the positive side, video calling has undoubtedly replicated the flow of office work, allowing us to connect with colleagues and clients, share documents, and progress certain business activities with relative ease. It has also become an important means of support to many, in overcoming loneliness during lockdown. In what follow we will briefly discuss some of the trials and tribulations of video calling, "zooming" in on some of its disadvantages from an employee wellbeing perspective, and what you can do to manage this technology more effectively in your everyday home working routine.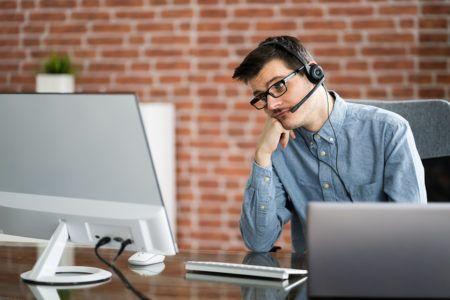 So, what exactly are the disadvantages of video calling? We have all experienced the downside, with many of us feeling worn out by this method of stilted, slower paced, impersonal interaction. Many report that it has become more of a chore. Every time there's a silence, one wonders whether it's the technology malfunctioning, or just a pause in the flow of conversation. Then there is the exasperating feeling that comes with screen freezes, microphone malfunctions, and Wi-Fi glitches which conspire to put us in a bad mood.
Gianpiero Petriglieri is an associate professor at INSEAD, a leading graduate business school. He states that a lot more effort is required whilst on a video call, compared to an in-person conversation. Petriglieri believes that this is for a variety of reasons. Firstly, your concentration is more likely to wane because there are more distractions at home than in your workplace. Naturally, therefore, you have to use a higher level of concentration to stay on track within the call. Secondly, this increased effort occurs because you have to really focus on body language and tone of voice in a video call; this is much easier to compute when you are seeing someone in person. Behind a screen, Petriglieri believes that you "cannot relax into the conversation naturally", as you are always worrying about deciphering body language and tone of voice.
Petriglieri also notes that we sometimes feel forced into out-of-hours video calls that resemble more of a "virtual social event", making them extremely performative to participate in. Pre-COVID work dinners, drinks, and work parties were times we got to socially interact with our colleagues in a more informal setting. As these events no longer take place as frequently, many companies are turning to video calling events such as quizzes, wine or whisky tastings, cocktail making or virtual "drinks out". Although these virtual events are supportive for those who may be experiencing loneliness and boredom, some may prefer to switch off from work in the evenings, and not converse with work colleagues. Perhaps you would prefer to focus on family and friends outside of the workplace, or just to focus on yourself. These virtual meet ups further blur the boundaries between work and home, which is not useful when you need time to detach from workplace stress. Additionally, many of you might feel too exhausted from your sedentary home working day to participate, but feel obliged to do so.
Petriglieri sums these issues up nicely, noting that for some it would be out of the ordinary to work and socialise in a pub or bar, yet we work and socialise on the same video call. Instead, in real life, there is a distinct place to work – an office – and a distinct place to socialise – a pub, bar, or restaurant, etc. This is also because many of us associate video calls with work, rather than leisure.
Lastly, like many people, you may dislike seeing yourself on camera. So, video calling is inherently uncomfortable!
According to a BBC-led questionnaire in January 2021 on the fifty largest UK employers, almost half of them have no plans to stop employees working from home in the near future. This means that we need to get used to video calling, whether we like it or not.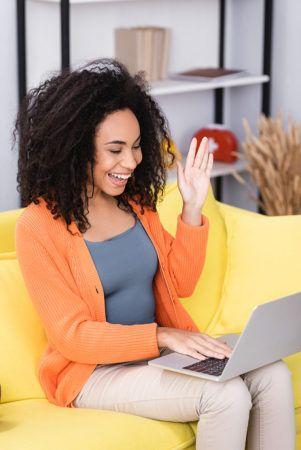 Below we list six points to help you better manage video calls:
If you're the one who is scheduling video call meetings, you should ask yourself, is a meeting absolutely necessary? Or, can the work be done in an alternative way, such as via a simple Google Doc and/or a conference call?
Think about the regularity of meetings. Even if you are not the one organising them, if you have a concern that video meetings are being run too often, bring this up with management.
Limit yourself to one social video call a week. This means that you will not get too exhausted from online social interaction, but you will not miss out either.
Create a standing workspace. Sitting at your desk all day has been proved to be bad for your overall health.  An idea is therefore to elevate your laptop to a standing height level, and attend meetings standing up. A kitchen worktop is the perfect place. This firstly helps you to feel more awake, and secondly means that you get the advantage of burning more calories in your virtual meetings.
Keep it short. A Metro Office study found that people generally only pay attention for just under 20 minutes before they begin to get distracted. Therefore, keeping meetings short is scientifically proven to boost efficiency.
Finally, be sure to stick to the time limit you set on a meeting, just as you would stick to your deadlines. Starting meetings early and ending them late can also lead to restlessness amongst your colleagues, as well as fatigue in the meeting itself.
Share this page on your Social Media!