Supporting employees' health and wellbeing is essential for creating a productive and happy workplace, and when employees fall unwell or get injured, it's a given that they'll need to take time off work. However, taking time off and then having to return to the office (especially after a period of prolonged absence) can feel like a daunting process. This is where line managers come in: they can help make both their employees' recovery period and transition back to work as smooth as possible.
In this latest instalment of our line management blog post series, we're providing line managers with some insights on how they can support employees during their sick leave, help them return to office life and work routines, and create policies that will facilitate employee recovery and better support their health and wellbeing in the long run. The road back to work can be a tricky one, complete with plenty of apprehension and anxiety, but with the guidance of line managers, employees can navigate it with confidence!
You're reading a blog post from our Line Management series
Below are links to all the posts in this series:
Understanding The Importance of Recovery Time
It's essential for line managers to give their employees the time they need to recover from any serious physical and/or mental health issues. Different individuals will need different amounts of time to recover and regain their strength – no two people are the same! Giving employees adequate recovery time has many benefits.
Having ample rest and recovery time can prevent employees from developing more serious illnesses/complications in the future.
Having enough time to recover can lower the affected employee's fatigue levels, ensuring they feel better and more energised quicker. This means that they'll return to work feeling more motivated and fully prepared to handle the demands of their role.
If an employee has been unwell with a virus or another contagious illness, it's important to ensure that they wait until fully recovered before returning to the workplace. This will reduce the chance of them spreading germs around the office, which could make other team members ill.
If an employee has suffered an injury, returning to work too quickly can make it worse or increase the risk of re-injury, resulting in even more time off.
Making sure employees feel like they can take adequate time off work to fully recover from an injury or illness can help avoid presenteeism and low levels of productivity in the workplace.
By ensuring that employees take sufficient time off work to recover, managers will demonstrate their commitment to their health and wellbeing, thereby fostering a stronger relationship between the employer and the employee – one built on values of trust and respect.
It's important for line managers to be generous in offering their employees recovery time, being mindful of the different health and personal circumstances that might affect an individual's recovery. Overall, recovery time is vital for making sure the affected individual can focus on restoring their health without the pressure to return to the office or the fear of disappointing or frustrating their line manager.
The best way to manage recovery time is to hold open, honest conversations with employees. During these meetings, line managers can urge them to consult their GP (or another medical practitioner). These medical professionals can support employees with the recovery process and timeline.
 According to a BBC Worklife report, 35 workdays per worker are lost to presenteeism in the UK. Digital and remote working options have exacerbated presenteeism, with employees working longer hours than before and responding to emails at all times. However, often, this drive to be seen constantly reliable and efficient often backfires. Recent research suggests that employees' productivity levels dramatically plummet after working more than 50 hours a week.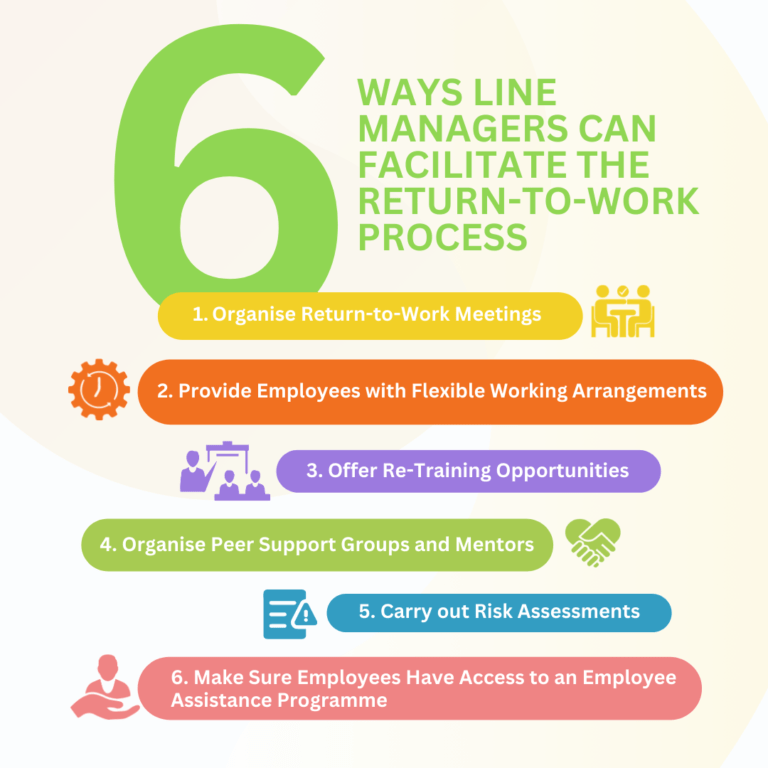 Back To The Office: Line Management Frameworks and Policies for Employee Return
Managers should play a supportive and interactive role with employees who are returning to work after a prolonged period of sickness absence. They should express an attitude of empathy, discuss and make available reasonable adjustments, and be supportive with regular communications.

At Thrive4Life, we suggest the following 6 strategies to facilitate the return-to-work process:
Return-to-Work Meetings: Scheduling a return-to-work meeting prior to an employee returning is important as it will support the return-to-work process. These pre-return conversations will help to map out any adjustments a returning employee may need, such as designating adjustments to workload and setting work targets they feel comfortable Employees should always be made to feel like they can communicate with their line managers if they're not happy with anything discussed in these meetings.
2. Flexible Working Arrangements: Based on the information gleaned in the return-to-work meetings, line managers should offer their employees remote or hybrid working options to ease their return to the office. Allowing employees the flexibility to work in the comfort of their own homes can help them gradually adjust to work tasks whilst managing any lingering symptoms or limitations.
3. Re-training Opportunities: After extended periods of absence, line managers should offer training sessions to help employees refresh their skills and knowledge. These sessions can help restore employees' confidence in their abilities, as they return to their work duties.
4. Risk Assessments: Thrive4Life offers work risk assessments that could help line managers improve work environments in order to support those employees who are returning to work after musculoskeletal injury or other physically debilitating conditions. This is especially important for employees facing physically debilitating conditions or recovering from serious injury gained inside or outside of work.
5. Peer Support Groups and Mentors: Having a designated support group at work can help employees connect with colleagues who are facing, or have previously faced, similar health Line managers could also appoint team mentors who have previously had to take extended time off work to share their experiences and insights with individuals who are currently in the process of returning to work after leave. This can help the affected employee/s feel supported.
6. Employee Assistance Programs (EAPs): EAPs can provide confidential counselling and support services to employees facing psychological or emotional distress because of their illness.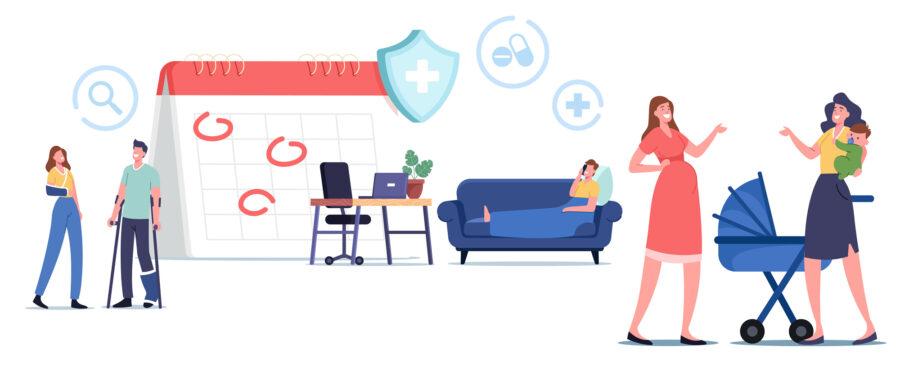 Supporting Employees During Their Absence
It is important for line managers to take empathetic and effective measures to support their employees during their time off. Just because an employee is away from work doesn't mean they don't require support from their line managers. In addition to poor health, employees may be dealing with fears about their job security and finances, as well as worrying about potential bonuses or promotion opportunities being compromised because of their absence. These types of actions should include:
Regular Communication: Line managers should keep in touch with their employees informally. However, there are boundaries with this type of communication – employees should never feel that their leave is being encroached upon or that they're being pressured to come back to the office. It's extremely important that line managers are sensitive and tentative in their communications, making sure that the employee is aware that they're contacting them to support them and make sure they're managing OK. A simple text inquiring about their health or keeping them in the loop can allow employees to feel connected with their colleagues as valued members of the team.
Offer Development Opportunities: Further to long-term absence and in preparation for their return to work, employees should be given the opportunity to attend relevant webinars or online skills training workshops. Voluntary participation in these sessions will provide an opportunity for a returning employee to refresh their knowledge, ensuring that they can return to their role feeling confident in their abilities and responsibilities.
Paperwork Management: Line managers should offer employees their assistance in dealing with paperwork related to their absence. This could mean offering guidance on obtaining fitness notes from their GP, filling in absence forms or documentation, and organising medical certificates and insurance details.
The bottom line is: care extends beyond the office! When line managers support employees during their absence, they can ease their concerns, boost the team member's wellbeing, make sure their team member trusts them as a pillar of support, and help facilitate the individual's smooth return to work.
Estimates by the CIPD show that 16,400 employees permanently withdraw from the labour market every year because of a workplace injury or ill health. This loss of skilled workers can be significant. However, it has been shown that compassionate absence management reduces the loss of these valuable workers.
Helping Employees Recover at Work: Long-Term Health Management
Recovery is not linear – there's no one-size-fits-all approach to managing an employee's period of leave or return to work post-leave. Just because an employee's sick leave is over doesn't mean they'll automatically feel their healthiest, either physically or mentally. They may be dealing with long-term health concerns, poor mental health triggered by a physical illness/time off work, or learning how to manage lingering symptoms.
At Thrive4Life, we suggest that line managers follow the following 4 guidelines to constantly and continually support employee recovery at work:
Adjustments: Under the Equality Act 2010, every workplace is legally mandated to make reasonable adjustments for employees dealing with disabilities and long-term illnesses. Line managers should aim to provide any adjustments their employees may need. These could be hybrid working options, modifications to their working environment, or ergonomically supportive equipment. This could include working with Thrive4Life's specialist musculoskeletal consulting services, which might include arranging an on-site Workstation DSE Assessment or another type of risk assessment depending on your needs.
Customised Work Plans: Work plans should be reviewed and revised to be as recovery-friendly as possible. This means work targets, schedules, and practices should be tailored towards individual employees and allow them to do their best without added pressures or stress that could further exacerbate pre-existing health problems. For professional consulting support with the return-to-work process, visit.
Mental Health Support: Dealing with an illness can be extremely emotionally draining. To facilitate their return to work, employees may need additional mental health At Thrive4Life, we offer Mental Health First Aid training, which enables members of staff to become or appoint MHFA England-accredited Mental Health Champions. Our corresponding Mental Health Skills Development Programme offers a top-up course for Mental Health First Aiders, making sure they refresh their training later down the line and gain new management insights from senior experts. This way, employees can get first-line mental and emotional wellbeing support in the workplace, helping to resolve problems as soon as they arise.
Access to Health Resources: Employees should be offered access to e-learning tools and resources to support their health in their own time. At Thrive4Life, our Health and Wellbeing Discovery Hub takes the hassle out of your digital health and wellbeing provision by providing you with a library of dynamic, fascinating health and wellbeing-related content revolving around nutrition, exercise, common illnesses, mental health, and much more. This database can be easily consulted by employees to ease their recovery, help them understand how they can get help, or just generally learn how they can better support their physical/mental health.
These informative, easy-to-use resources can help line managers phase their employee's return to work by reviewing and revising existing policies in order to demonstrate genuine care and concern for their team's health and wellbeing.
In Summary
Employees can be afflicted with serious illnesses or injuries at any time. By offering supportive attitudes, making reasonable adjustments, and adopting flexible policies, line managers can make a serious difference to employees facing difficulty in these types of challenging circumstances. By following the tips and consulting the expert resources highlighted in this blog post, line managers can create a supportive, empathetic working culture that prioritises every single individual's health and wellbeing over anything else.
Remember, in the end, it's not just about getting employees back to work – it's about putting them first, empowering them to achieve their full potential, and uplifting every member of your organisation to feel and do their best.
Please note, these are external links away from the Thrive4Life website. We are not responsible for the content of external websites.
Share this page on your Social Media!