Do you want to know a lasting remedy for the Monday blues? Would you like your team members to arrive at work feeling refreshed, energised, and enthusiastic about the day ahead? Line managers: look no further than yourselves – the power to transform your workplace's culture lies in your hands – and it could be just the solution you're looking for.
In this third instalment of our line management blog post series, we're exploring how line managers can look after their team members' mental and physical wellbeing by building a healthy workplace culture that fosters a happy, productive working environment.
You're reading a blog post from our Line Management series
Below are links to all the posts in this series:
After surveying employees across different industries, this study also detected five key feelings/qualities that act as signals and facilitators of a positive work culture:
Feeling a sense of belonging.
Feeling able to contribute.
Flexibility in the workplace.
Equity.
Possessing a growth mindset.
The statistics don't lie: employees reporting positive work environments were 167% more likely to recommend their company to other job seekers. Therefore, it's clear that a positive work environment not only reduces employee turnover but helps optimise talent recruitment, which can be instrumental in boosting a company's reputation.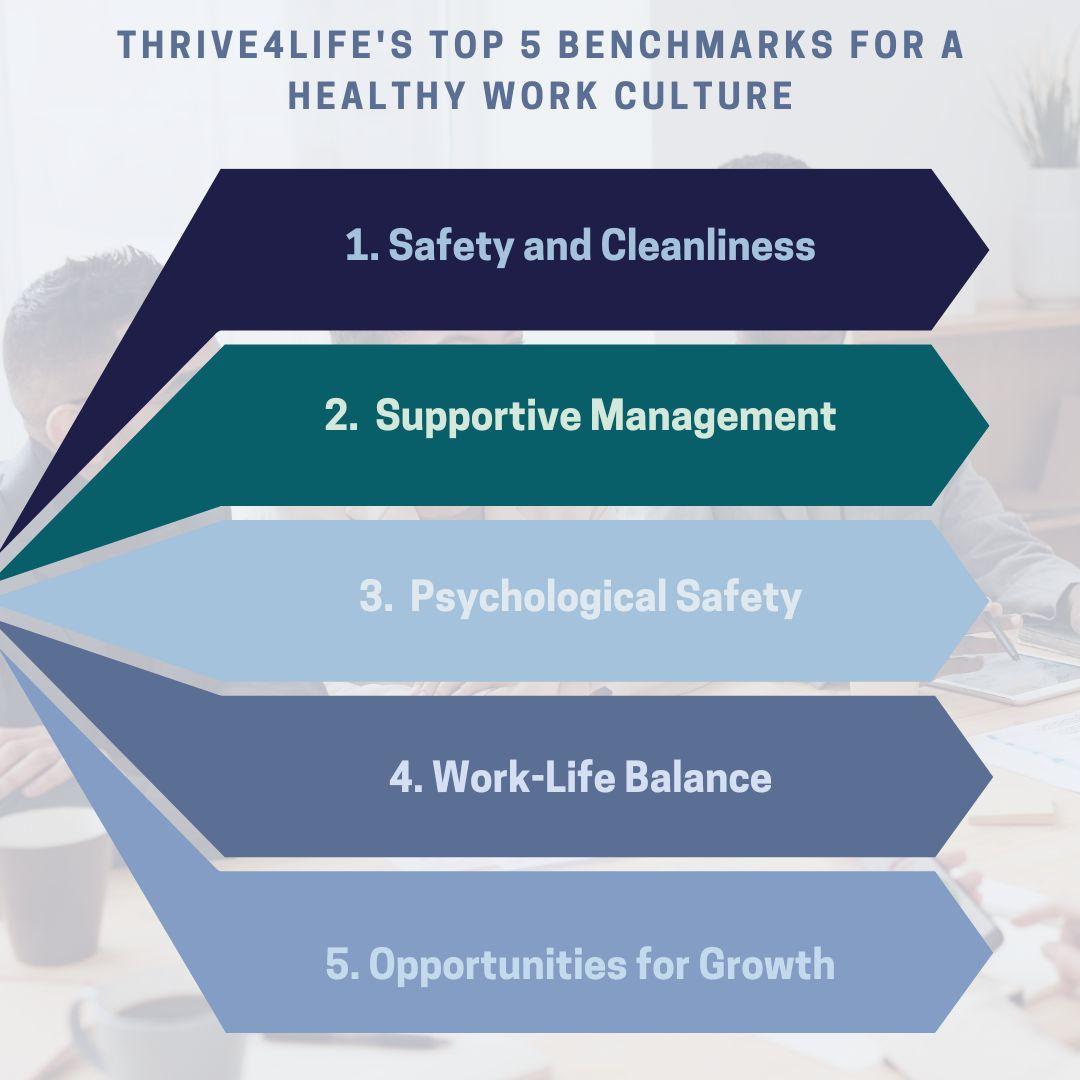 Benchmarks for a Healthy workplace Culture:
What exactly does a healthy culture at work look like? At Thrive4Life, we've highlighted 5 key components that function as the pillars of a healthy workplace culture:
Safety and Cleanliness: A safe working environment is free from hazardous substances and ergonomic risks. Line managers should ensure their office space has adequate lighting, clean air through ventilation and purification systems, ergonomic furniture to support employees' backs, proper waste management, and good safety equipment in case of emergencies.
Supportive Management: Line managers can take steps to have open communication with their employees, recognising their achievements, avoiding bias or discrimination, being flexible with outputs and schedules when needed, and demonstrating an attitude that recognises diversity and promotes inclusivity.
Psychological Safety: A healthy work culture is one where every employee feels comfortable speaking up, raising their concerns, and sharing ideas without fear of negative consequences. In the coming weeks, Thrive4Life will be publishing a dedicated Ultimate Guide to help line managers foster psychological safety in the workplace.
Work-Life Balance: In a healthy work culture, employees do not feel overburdened by their professional responsibilities after office hours. Line managers can support a healthy work-life balance by offering flexible working arrangements (i.e. remote working options), being clear in their expectations for their employees' hours and workload, setting technology boundaries to help employees disconnect from work during their personal time, and encouraging breaks and time-off.
Opportunities for Growth: Employees should have opportunities to develop their knowledge and advance their careers. Line managers can support this by arranging training and development programmes for further skills training, career planning services to help chart team members' job progression, and networking opportunities that help individuals connect with other professionals in their fields.
Line managers should strive to avoid toxic work cultures.
Why? To put it simply, dysfunctional office environments can have a detrimental impact on employees' mental and physical wellbeing. A toxic workplace culture can cause chronic low morale, team discord, low levels of psychological safety, and poor communication between colleagues and teams. In evidence of this, research has found that toxic work cultures are directly linked to high employee turnover. In 2019, a report undertaken by the Society for Human Resource Management surveyed a range of businesses and found that toxic work culture was the underlying reason behind low employee retention, with 1 in 5 respondents in toxic workplaces resigning within 5 years of starting their jobs.
Toxic work cultures can be contagious and negative behaviours can spread like a virus. Line managers must be proactive in their approach to building healthy employee environments to avoid low productivity and high turnover rates.

Actively Developing Healthy Cultures: A Framework to Help Line Managers
Line managers need to adopt positive and efficient management standards in order to build a culture that prioritises employee health and wellbeing. Health and Safety Executive recommends that management standards should take work demands, employee support, manager-employee relationships, and clarity about organisational roles into consideration when building a healthy workplace culture. Line managers should structure their management standards around holistic principles that can benefit the members of their team at any stage in their careers. To ensure lasting success, at Thrive4Life, we suggest following these 3 principles as a guide for successful management.
The 3 Key Principles for Effective Management:
Open Communication: Line managers should encourage employee feedback and actively listen to it. A stronger communication culture can be built by regularly scheduling check-ins with team members and promoting team-building in order to foster mutual trust.
Preventing Discrimination: Line managers must be firm in their anti-discrimination policies. All employees must be treated fairly and equally in the workplace. Line managers should also undertake bias training and make this mandatory for all employees.
Accountability and Transparency: Line managers should hold themselves and their employees accountable for their actions and results. They should also be transparent in their processes and share all non-confidential work information with their team. This will help their team members feel valued and trusted as a core part of the broader organisation.
By structuring their management standards around these principles, line managers can foster a culture of respect, trust, and collaboration. Any management framework should aim to ensure employees feel valued, psychologically safe, and empowered to do their best work.
Practising Healthy Behaviours: Actions to Boost Employee Wellbeing
In keeping with the guiding principles mentioned above, line managers should take these 5 proactive steps to help them build a healthy workplace culture.

Thrive4Life's 5 Steps for Building Healthy Behaviours in the Workplace:
Physical Activity: Line managers should help boost their employees' fitness and physical health by organising more opportunities for exercise. These opportunities could include yoga classes, team sports days, walking or running groups, and gym memberships.
Social Activity: Social activities can help build relationships among team members and create a sense of community and belonging in the workplace. To do this, it would be a good idea for line managers to arrange team lunches, coffee get-togethers, office book clubs, and group outings, all of which will encourage social interaction and build bridges between colleagues.
Volunteering and Charity Work: Setting volunteering and charity goals can foster a sense of purpose and social responsibility among team members. Line managers should organise opportunities for their teams to participate in service projects or charitable fundraisers, such as volunteering in local food banks or participating in charity runs or walks.
Support Groups: Having designated support groups for any mental or physical health issues employees face can be a powerful tool to boost wellbeing. Line managers should help create these support groups to allow their team to discuss and work through different issues in safe, confidential spaces. Facilitating the organisation of these groups might involve reserving a meeting room and establishing guidelines for respectful communication and confidentiality. Line managers could also further support these groups by providing relevant articles, books, and other resources to enrich their meetings and help participants navigate their challenges.
Diversity and Inclusion Activities: Line managers should organise diversity and inclusion activities to promote equality, diversity, and inclusion in the workplace. For example, they could schedule organisation-wide activities to mark the celebrations of different cultures, including Eid, Passover, and Diwali. These efforts will help all employees feel recognised, involved, and valued.
Thrive4Life's Best Tools to Help You Build a Healthier Workplace Culture:
Thrive4Life offers numerous wellbeing initiatives which can help you promote and protect your employees' physical and mental health.
Staff Wellbeing Re-Energise Challenge : This 28-day challenge empowers employees to optimise their physical health by working with our experienced Nutritional Health coaches over lunchtime sessions. Their guidance also extends to advice on making healthy shopping lists, devising meal plans, eating out, and getting community support through an online forum.
Mindfulness and Meditation sessions: Line managers can arrange meditation and mindfulness sessions with our experienced meditation coaches to help reduce stress in the workplace and cultivate positive thinking habits.
Health and Wellbeing Discovery Hub: Thrive4Life's Hub is your comprehensive, go-to resource for supporting your team members' With the Hub, you'll gain access to a searchable digital library that contains health and wellbeing talks, articles, and live sessions with specialists. The information on the Hub can also be adjusted in accordance with company requirements.
Mental Health First Aid Course: This online course trains delegates to become in-house resources for colleagues struggling with mental On completion of the course, your company representative will be provided with an official MHFA England certification.
Bespoke Guidance and Plans: By collaborating with our expert Wellbeing Consultants, line managers can design a bespoke wellness strategy that ensures their team members thrive in a healthy working environment.
In Summary
These days people don't just job hunt – they search for employment at an organisation that truly cares about their physical and mental wellbeing. No one wants to work in a toxic environment, and everyone is more productive if their work environment is conducive to their wellbeing. Employers should always take active measures to boost their employees' wellbeing because a healthy and happy workplace equates to company-wide success.
However, it's important to remember that a healthy work culture requires constant effort and attention. It's a dynamic process that requires ongoing vigilance and effort from line managers. From wellness programmes to team-building activities, there are countless strategies line managers can employ to build a happy and productive workplace culture. Indeed, by using the tools we offer at Thrive4Life, line managers can make a real impact in their organisations, contributing towards the development of a company that both prioritises and values its employees' wellbeing.