Having an inclusive workplace that supports the health and wellbeing of all employees is more than the need of the moment – it is an absolute requirement.
Every successful organisation wants to find and retain the best talent, and line managers are instrumental in recruiting, training, and promoting employees. But what about individuals facing mental and/or physical health challenges? How can line managers ensure that these individuals are not only fairly recruited but also given equal opportunities to thrive and progress at their organisation?
In the tenth instalment of our line management blog post series, we're exploring the practical strategies that can help line managers fairly recruit and promote employees with health issues. Read on to find out how to grow a workplace culture that revolves around inclusivity, compassion, and empowerment.
You're reading a blog post from our Line Management series
Below are links to all the posts in this series: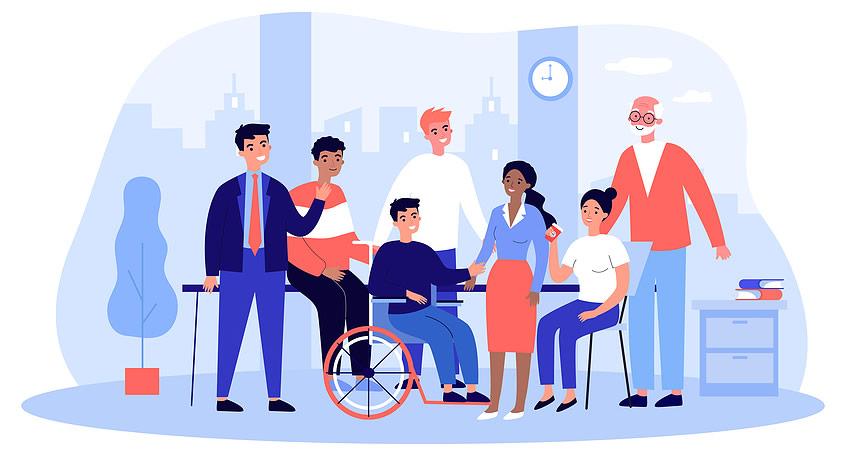 Inclusive Onboarding: Supporting Employee Wellbeing in the Recruitment Process
As a line manager, you want to attract and hire employees that benefit both your team and your organisation. Having inclusive and transparent recruitment processes can help you recruit candidates with the highest potential for growth while avoiding discrimination and bias.
How can line managers foster inclusivity and create a stigma-free onboarding environment? Here are the 4 key components of fair recruitment practices:
1. Training and Awareness: It's helpful for those involved in the hiring process to complete diversity and inclusion and bias training. This will help them challenge any unconscious bias and equip them with an awareness of their legal and professional responsibilities regarding disabilities and fair recruitment. According to the Equality Act 2010, any applicant with health issues and/or disabilities cannot be discouraged from applying to work, and recruiters cannot ask them to disclose health issues and/or disabilities during the hiring process.reference A pre-recruitment training course would help line managers build their awareness of such legalities to ensure that they remain as impartial as possible when recruiting new staff.
2. Clear Communication: Line managers should clearly communicate their commitment to inclusivity and their employees' physical and mental health and wellbeing throughout the hiring process. This should be reiterated in job adverts and recruitment materials. For example, line managers should inform all applicants of existing health promotion policies. These might include an open-door office policy for ease of communication or a range of office support groups. At Thrive4Life, we also provide a wide range of health and wellbeing measures and provisions that can support your staff to perform their best. These include:
Creating a multifaceted health and wellbeing strategy that you can tell prospective employees about can reassure them that their prospective employer values their wellbeing, setting the tone for future conversations about their health needs.
3. Reasonable Adjustments: Line managers should make reasonable adjustments to support candidates during the interview and assessment processes. This should mean interviewing in an accessible venue with wheelchair access, holding interviews online if necessary, or allowing certain applicants extra time for assessments. Line managers should also provide assistive technology as an option for all candidates. For example, if any applicants have visual impairments, they should be provided with screen reading software that can read the assessment text out loud for them. Such adjustments give all candidates an equal opportunity to showcase their skills.
4. Candidate-Oriented Approach: A line manager's recruitment approach should be tailored to the candidate at hand. For example, rather than mapping each candidate's interview responses onto a pre-existing questionnaire, line managers should tailor their questions to the candidate's specific skills and qualifications. Questions like "Tell us about a time you overcame a professional challenge" are candidate-oriented and allow line managers to gain an insight into the interviewee's problem-solving skills. Line managers can also use scenario-testing assessments to understand how a candidate would undertake specific tasks and challenges.
The measures will help line managers ensure that all candidates (regardless of their health situation) are given a fair and equal chance to prove their skills and abilities.
Under the Equality Act, it is unlawful to ask questions about a candidate's physical and/or mental health history. Instead, line managers should be as compassionate and considerate as possible when assessing a candidate's skills, evaluating them on a scenario basis.
Development and Promotion: Supporting Employee Growth
Individuals can face health challenges at any point in their lives. Employees may struggle with long-term health concerns or suddenly encounter physical and/or mental health problems during their careers. To create truly inclusive workplaces, line managers need to ensure all employees have the same opportunities to grow within their organisation, regardless of their health needs.
At Thrive4Life, we recommend line managers use the following top 4 strategies to support the promotion of employees with health issues:
Individualised Career Development Plans: Line managers should design individualised career plans that consider employees' specific goals and strengths in relation to their health and wellbeing needs. Rather than having their health issues compromise a rigidly defined career trajectory, employees should be given the opportunity to work with their line managers to define their own goals and progression. For example, an employee struggling with chronic pain should work with their line manager to develop a career plan that is sensitive to their need for rest time and pain management. This will help employees feel more confident with their professional progress. It will also help line managers evaluate their employee's performance in accordance with individual goals and targets.
Flexibility in Roles and Responsibilities: Line managers should modify an employee's roles and duties in accordance with their capabilities to best accommodate any health conditions. For example, an employee with mental health issues should have their workload adjusted to allow time to attend counselling sessions, support groups, and gain a surer sense of work-life balance. Rather than having ill employees struggling to meet their tasks and underperforming, line managers should help them optimise their performance by modifying their roles where possible.
Mentorship: Having a designated mentor to support their career development can make a huge difference to an employee. Line managers should assign mentors within the organisation to help employees with similar health issues navigate their career paths with confidence and motivation.
Transparent Performance Reviews: Line managers must be as clear and transparent as possible in communicating guidelines for performance reviews and promotions. For example, they should meet with employees on an individual basis to relay their expectations for their progress and set standards for promotion. This can allow employees with health issues (and those without) to understand the requirements and expectations for career progression. They can then approach line managers for the adjustments mentioned above and ask for collaborative goal-setting, guidance from mentors, role modifications, and personalised career plans.
By offering such adjustments and evaluating individual performance with genuine compassion and concern for their wellbeing, line managers can not only facilitate career growth for employees with health issues but also help them improve their confidence in their professional skills.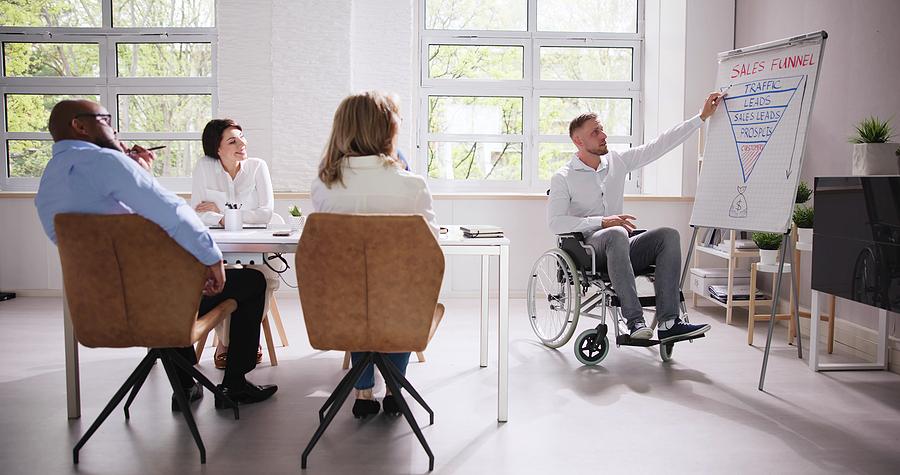 Supporting Wellbeing in the Workplace: Health-Focused Tools and Resources for Recruitment and Promotion
The best way to guarantee fair and inclusive hiring and career development for any employee with health issues is by developing a healthy workplace culture. When line managers work to boost the health and wellbeing of all employees with the support of the wider company and access to health and wellbeing resources, they'll create an environment that welcomes and supports the growth of anyone living with specific physical or mental health needs.
What tools can you use to support new and existing hires' wellbeing? Here are our top 6 recommendations: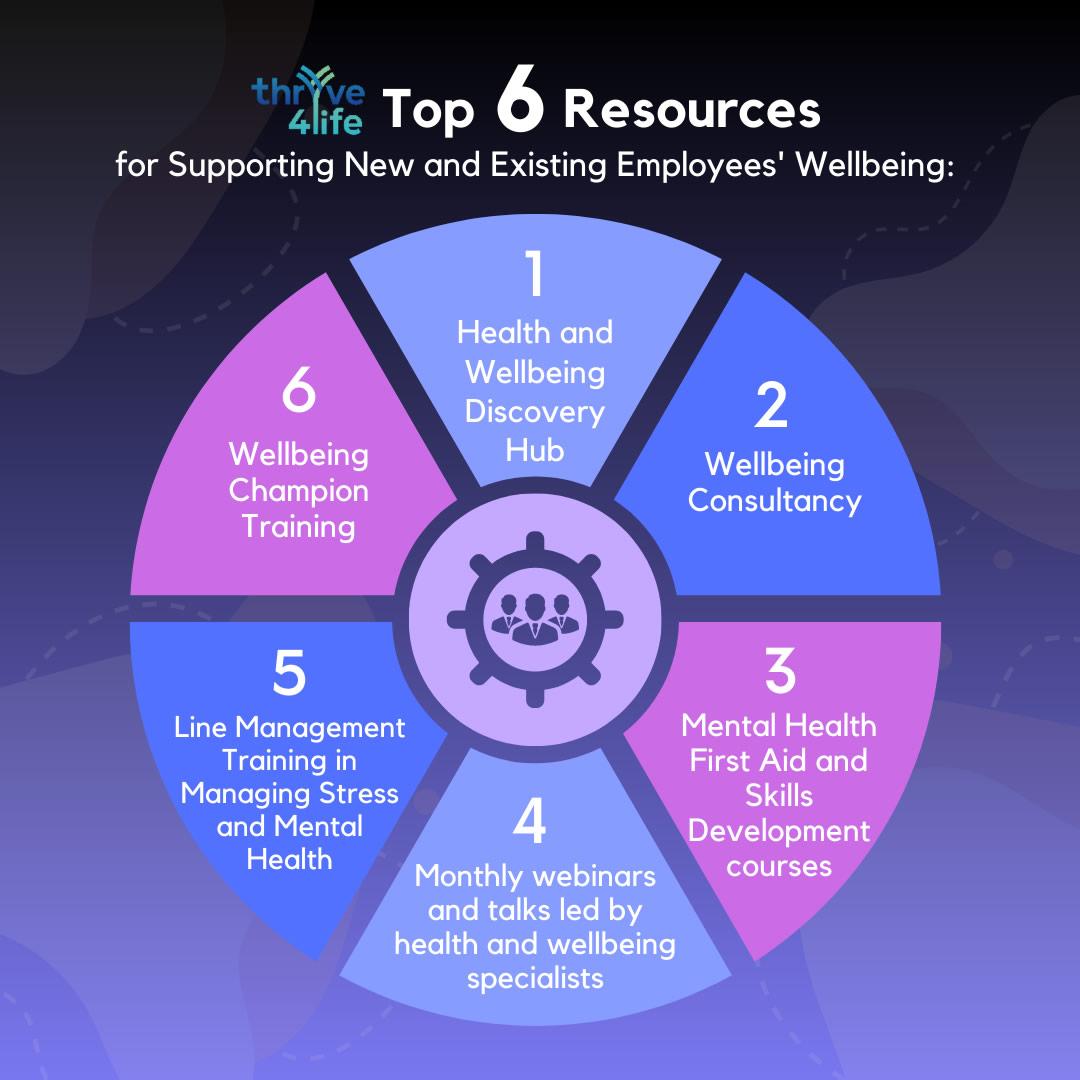 The more resources a company has, the more effective a line manager becomes at supporting employee health and wellbeing. By implementing these kinds of measures and initiatives, they'll be better equipped to offer effective, practical support and reassurance to both prospective candidates worried about health issues impacting their onboarding and to existing employees with health-related concerns about their career development.
In Summary

Inclusivity is more than ticking boxes – it is about embracing a company-wide culture of empathy, compassion, and understanding. When line managers adjust their recruitment processes, provide individuals with equal opportunities for growth and promotion, and develop a healthy workplace culture, they'll nurture the best talent for their organisation. As champions of inclusivity, line managers can help create the brightest future for their employees and their business.
Thrive4Life's tips can allow line managers to build workplaces where health challenges are not barriers to success but opportunities to support individuals to do their best work and show them how much they are valued. Inclusive recruitment and promotion practices are they key to creating a healthier, more productive workplace.
Please note, these are external links away from the Thrive4Life website. We are not responsible for the content of external websites.
Share this page on your Social Media!