Picture this: your employees are buzzing with energy, hitting their KPIs, and are excited to come into the office. It's the atmosphere that all line managers aim for, but how can you achieve this? It all starts with health and wellbeing: One of the best ways to create a productive, highly motivated atmosphere in the workplace is to ensure that line managers take a proactive approach towards caring for their team members' physical and mental health.

But what exactly should this approach encompass? With so many resources out there, you might be finding it difficult to navigate the best course for your team.
In this second instalment of our line management blog post series, Thrive4Life has highlighted some simple steps to help line managers build the right frameworks to create a thriving workplace where employees feel supported and happy.
You're reading a blog post from our Line Management series
Below are links to all the posts in this series:
In this blog post, line managers can find practical tips for:
Evaluating their business' health and wellbeing needs.
Utilising resources for health assessments.
Adapting existing health and wellbeing strategies.
Engaging employees in wellness programs.
A Bespoke Approach to Wellness: Tailoring Your Health and Wellbeing Strategy
A tailored approach towards workplace wellness should involve assessing the business' specific health and wellbeing needs and requirements. This will allow line managers to:
Help identify the most effective health and wellbeing measures for their team members: By identifying the needs of their team, line managers can take targeted measures to create a working environment that suits individuals' specific demands. For example, if an employee's stress levels are being exacerbated by their long, exhausting commute to work, their line manager might consider suggesting that they follow a hybrid working pattern.
Address and resolve existing issues: Problems such as absenteeism, low retention, and low productivity can arise in any workplace. These issues can often be linked to poor employee health and wellbeing. By considering these issues when formulating their approaches to staff wellbeing, line managers can reduce their associated risks, e.g., high turnover and demotivated staff.
Abide by legal obligations: Businesses are legally required to protect the health and safety of their employees. For example, laws such as the Equality Act prevent employers from discriminating against employees with disabilities. This Act also mandates that employers make reasonable adjustments for disabled employees.[1] By prioritising the health and wellbeing of their employees, line managers ensure compliance with such laws.
Boost the organisation's reputation: When their health and wellbeing needs are identified and met, employees are much more likely to be more satisfied with their working environment and have a positive overall opinion of the company (that they share!).
Evaluating the business' needs is a necessary first step when developing a health and wellbeing strategy. But how exactly can line managers take this step? It may seem a difficult task, but there are plenty of resources which can help.
At Thrive4Life, our experienced health professionals offer wellbeing consultancy services that aim to identify and rectify gaps in your company's wellbeing policies. Line managers can also book a complimentary consultation with our experts to gain valuable insight into the best health and wellbeing strategies for their teams.
2. Risk Assessments: Line managers should conduct risk assessments to highlight both physical and mental hazards in the workplace. At Thrive4Life, we offer comprehensive risk assessments to assess employees' physical and mental safety at work. These include Online DSE Assessments and Injury Prevention Training.
3. Health Screenings: Line managers should organise regular health checks or screenings for their employees, such as a Mini Health Check. These would include vital signs measurements (i.e. blood pressure and heart rate), blood tests, and possibly mental health screenings.
4. EAPs (Employee Assistance Programs): Employee Assistance Programs are designed to provide short-term work-based interventions to assist employees in resolving personal problems. The UK Voice of Employee Assistance offers an EAP calculator tool that could help line managers gather data on the issues employees seek help for.[2]
For more guidance, line managers should also consult the following Thrive4Life resources:
Mental Health First Aid: Our online programme equips line managers to become accredited Mental Health First Aiders. By gaining professional training in mental health support initiatives, line managers can create a comprehensive mental health strategy for their teams that supports individuals' mental and emotional wellbeing.
Educational Wellbeing Talks and Webinars: Line managers can book educational webinars conducted by seasoned professionals and health experts to be live-streamed to their teams. From talks about stress, emotional resilience, and the menopause, Thrive4Life can offer your company exciting opportunities to learn more about health and wellbeing every month.
Line Manager Training Courses: This 90-minute training course equips line managers with the tools to look after their team members' mental health. Our specialists use their industry knowledge and professional experience to provide up-to-date teaching and practical exercises for you and your team, helping to make emotional wellbeing in the workplace a priority for your organisation.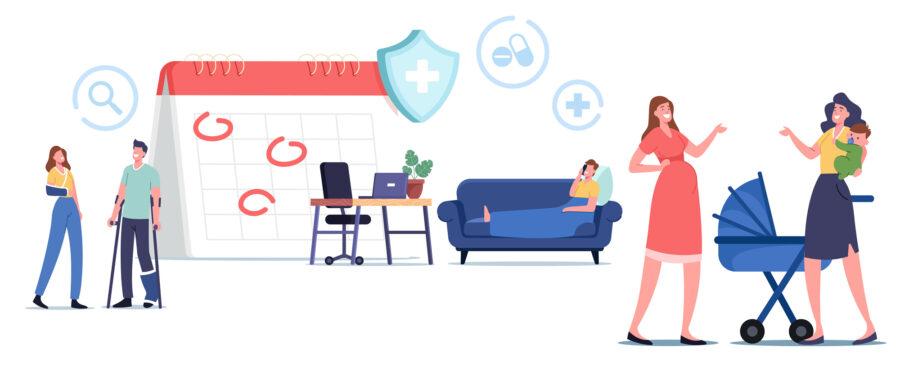 Integrating and Adapting: How Can Line Managers Incorporate a Focus on Health and Wellbeing into Existing Strategies?
Drafting physical and mental health strategies from scratch can be time-consuming, costly, and (contradictorily!) stressful. However, this isn't necessary. A focus on health and wellbeing can be woven into existing employee management processes, and our wellbeing consultants at Thrive4Life can help with this. This will also result in a more holistic approach towards improving employee health and wellbeing.
How Can This Be Done? Top 3 Organisational Strategies Line Managers Can Adapt:
Absence and sick leave: Line managers should be more flexible with absence and sickness rules in order to prioritise the care of their employees' mental and physical health. This means encouraging employees to take time off for poor physical or mental health and offering flexible hours to schedule medical
Overtime: Line managers can take steps to prevent employees from regularly working overtime and instead promote a healthy work-life balance. This can be achieved by setting more manageable and flexible work targets, sharing workloads, and introducing limits on screen time.
Equality and Diversity: Health and wellness should be accessible to employees regardless of age, sex, ethnic background, or disability. Line managers can strive to be more inclusive and accessible in their wellness programs. This could mean providing health guides in different languages, accommodating disabilities with ergonomic workstations, ensuring wheelchair access, and maintaining a clean and hygienic environment for all employees, particularly those who are immunocompromised.
The Last Piece of the Puzzle: Getting Your Employees Onboard
After evaluating business needs and identifying adaptable strategies for a health and wellbeing framework, what's next? Although the next step may seem fairly simple, it is, without a doubt, the most critical part of implementing any successful strategy: communicating it to team members.
Employees' willingness and compliance are crucial to the success of any organisation's health and wellbeing approach.
At Thrive4Life, we suggest these Top 5 Strategies to help line managers successfully engage their employees:
Raising awareness about health and wellbeing: Line managers should effectively communicate the advantages of their wellness programmes by scheduling dedicated team meetings to discuss their mental and physical health strategies and sending out informative e-flyers and pamphlets via email.
Seeking employee input: Line managers should make their wellness approach adaptable and collaborative by encouraging feedback and suggestions via polls and forms.
Providing incentives: Line managers should offer perks in return for employee participation. For example, an employee who cycles to work a specific number of times a month could be rewarded with a gift card for a healthy local café.
Making it fun: Looking after their health and wellbeing shouldn't be something your team dreads! Line managers should organise social activities that involve the whole team, e.g., team walks, healthy potlucks, Zumba classes, and meditation session
Taking it one step at a time: The journey towards better physical and mental health in the workplace is a marathon, not a sprint! Scale up slowly and introduce your programme Simple measures like providing your team with healthy snacks, encouraging everyone to stay hydrated, and reminding team members to take regular breaks, can have a lasting impact on the organisation's ethos and workplace culture.
In Summary
The best approach to health and wellbeing is a proactive one! Since they already handle so many responsibilities every day, line managers should build their health and wellbeing programmes in a way that doesn't overburden them or their teams. A comprehensive approach towards improving staff members' health and wellbeing should prioritise lasting and effective change over vague, broad-based initiatives.
There's no need to feel daunted by the process of building a health and wellbeing strategy: there are many extremely useful resources you can consult, as well as pre-existing organisational strategies you can easily and swiftly adapt. Check out our Wellbeing Consultancy Services and Employee Discovery Hub for the most up-to-date wellness advice, professional health management resources, and bespoke strategy development facilities.

Employee health and wellbeing is a long-term investment, and as such, it also requires a long-term plan. Why not start small and experiment with fun wellness activities for your team to enjoy? Get ready, line managers, and take that first step — a healthy, thriving team awaits you!
Please note, these are external links away from the Thrive4Life website. We are not responsible for the content of external websites.
Share this page on your Social Media!